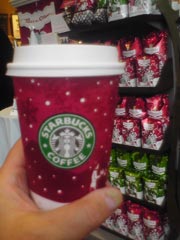 It seemed a bit early, but of course that's the point. Who was thinking about Christmas shopping on November 8th? Yet when I walked into Starbucks last Thursday morning, the holiday transformation had occurred completely. The store is now entirely decked out in red with a few green accents. Special holiday drinks are on the menu. Numerous displays of potential gifts are available to browse while waiting for my drink. And of course each employee was wearing the obligatory red shirt; one even asked me if I was ready for the holidays. Are you kidding? (I really must find out if asking that question was suggested in their holiday briefing.)
It was all kind of a shock the first morning, but within a few days I'll be used to it. In fact, that's already happening. And again, that's the point. Aggressive reminders about the need to complete holiday shopping will have become a normal part of each morning; perhaps something I'll hardly notice.
While TBYB! might occasionally complain or poke fun at advertising, I generally take the position that this kind of persuasion is not inherently evil. Instead, I try to deconstruct commercial marketing so we can learn the techniques others use to influence us, and then use the same methods to change our own behavior.
In the case of the Starbucks Christmas campaign, I think we're observing two techniques.
1. Leverage habit.
I admit it: I stop at Starbucks every morning responding to the siren call of the caffeine molecule. If the full-court Christmas press really bothered me I could go somewhere else for a few weeks, but I probably won't. Starbucks is easy, I like it, and I'm used to it. I think it's very significant to notice the degree to which I won't need to step outside my routine or do anything different than I normally do to receive all the Christmas messaging they've put in place. All I have to do is just keep doing exactly what I've always done; only the ads have changed.
Keeping this strategy in mind, look for opportunities to embed messages in your own environment that you'll receive automatically without changing anything else you do. That's why I frequently advocate putting messages on your screensaver, cell phone, bathroom mirror or refrigerator – most of us encounter each of those locations many times every day in the course of normal daily life. (If that's not true for you look for potential places to advertise that you do see all the time.) Lately I've been hanging stuff from the rear view mirror in my car, and that seems to work well too.
2. Advertise early, advertise often.
Providing different input can change what we're thinking about, which eventually changes behavior. So if there's a future change you'd like to make, give yourself an opportunity to start seeing or hearing reminders of it now. Like the Christmas decorations at Starbucks, those images might seem premature and out-of-place at first, but you'll soon get used to them. And you'll be way ahead of the game when you are ready to start doing whatever it is, because familiar concepts are much more likely to happen.
For example, if know you'll decide to get back to the gym after the new year (because you always do), consider putting up a few photos now of yourself working out. Or perhaps you could start collecting pictures for your New Year collage. Think ahead to January, after the holidays, and anticipate other projects you'd like to implement. Call them New Years resolutions if you want to. Apparently now is the time to start getting yourself used to achieving the goals you'll set for yourself a few weeks down the road.
Related articles