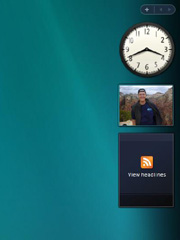 Using some kind of "widget" to run a little slideshow in the corner of my computer's desktop is my very favorite way to deliver advertising images to myself. It works well because the set-up is easy, delivery is automatic, and I see the ads frequently because I spend a lot of time at my computer every day. All I have to do is throw pictures of stuff I want to do in a folder to make them into instant ads; the slide show software takes care of the rest.
Windows catches up with gadgets
I wrote a series awhile back about using Google Gadgets for this purpose. Yahoo also has a free widget engine you can install, with hundreds of of widgets available for download. Check out Widgets and gadgets and klips (oh my!) and How to rotate picture ads with the Google Photos gadget for an introduction to using desktop gadgets for personal persuasion. (Note that the words widget and gadget are interchangeable in this context.)
Macs have come with dashboard widgets already installed for quite awhile. Starting with Vista, Microsoft's latest operating system, Windows PCs also have gadget functionality built in. One of Vista's new features is an area of the screen – called the Sidebar – that is reserved for installing these little software applications. A slide show, clock and RSS feed reader are installed automatically, by default. They are displayed on the right side of the screen the first time you start Vista, ready to use.
How to configure the Vista Slide Show gadget
Hover your mouse pointer over the Slide Show gadget and notice a little wrench icon that appears in the middle of the right side. Click on that wrench to get to the Slide Show options window. The options window contains the following choices:
Folder: This is the only setting you really need to change. When the Slide Show gadget is installed it's set up to get photos from the Sample Pictures folder. Change that location to something like My Pictures. My personal preference is to create a subfolder in My Pictures called Ads, and point my Slide Show gadget to that folder.
Alternatively, you could point the Slide Show gadget at My Pictures and check the "Include subfolders" box. The Slide Show would then rotate through all of your pictures, including those in your Ads subfolder. Thats a good way to go if you want to mix your persuasive images in with photos of your pet, vacation, etc. – sort of like putting ads in a TV program.
Show each picture: The default setting is 15 seconds. Experiment with different settings to determine what works best for you. I usually prefer to slow it down so the changes don't distract me from what I'm doing too frequently. Something like 4 or 5 minutes seems to work well.
Transition between pictures: This setting is up to you. Again, experiment to see what works well. I leave mine set to None.
Shuffle pictures: Shuffling introduces a small element of surprise into your slide show by delivering them in a random order. I've noticed that I seem to be less likely to dismiss them if each next image a bit unexpected, so I recommend checking this box.
That's all there is to configuring the Slide Show. Vista will now automatically flip through these pictures any time your computer is on, – making sure you get exposure to pictures of your goals repeated many times every day.
What should I advertise?
A slide show gadget is a great place to put pictures of places you want to go, people who inspire you, stuff you're saving to buy, the place you want to work, or even something simple like the cover of a book you'd like to make time to read. I get many of my pictures for these ads by just downloading them from websites. I use Google Image Search when I'm looking for something specific. I also take some of them with my digital camera, especially when I want to put myself in the picture.
Industry professionals estimate that we receive about 3000 advertising messages a day. You don't have to do anything to receive any of those messages – they just show up. Gadget ads simulate that automatic repetition, showing you pictures of your goals coming true dozens of times a day. Try it – it's amazingly effective.
Related articles