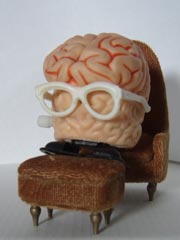 Dear Brain is an advice column where you can tell us about a goal you have for yourself and receive suggestions about how you could use personal marketing techniques to support it. Think of it as Dear Abby meets marketing geek. If you have a goal in mind and believe personal marketing might help, but haven't quite been able to think of a way to use it, this is the page for you!
To receive feedback, simply write your question in the comment form at the bottom of this page. Depending on volume, I "empty the mailbag" about once a month with a special Dear Brain post where I offer suggestions about how to advertise to yourself about the specific goals you all have in mind. In addition to getting coaching from me, you have the benefit of input from the rest of the TBYB! readers when your question is published.
If you're ready to get started with personal marketing, I encourage you to take advantage of this free advice and the many other resources on this site to learn how to use marketing strategies on yourself, to help you make your dreams come true.
Dear Brain articles