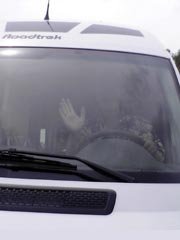 My early ads in the RV ad campaign were mostly just pictures that I downloaded from manufacturer's websites. They worked well to keep the idea in my consciousness, and prompted me to take many actions that I'm sure I would not have otherwise. However, as the campaign went on I discovered a few other techniques that were so effective they produced huge shifts in my mental journey from impossible to inevitable.
Three of the four methods below use a variant on visualizing your desired future reality with you (or your home) already in it. I've written about that pretty extensively in the Put yourself in the picture series. Basically you use technology like your digital camera and/or Photoshop to help you make a picture of that future.
The fourth method uses large high-resolution color images that change very frequently. Think TV. Although this method was not at all technically sophisticated, I was surprised by how much it engaged my attention and emotions.
1. Got someone to take a photo of us in an RV
In June 2006 we visited a dealership to look at a model my research had suggested might meet our needs. During that visit I asked the salesman to take a photo of us standing in the rig, and another one of me driving it. Those photos went into my slideshow and stayed there for several months. Seeing ourselves in the picture made much more of an emotional impact than generic sales photos. The photo above shows me "driving" a Roadtrek in one of those ads. Even though the image of me was pretty indistinct through the windshield, it represented the first time I had been able to actually visualize myself owning an RV and it was very effective.
2. Photoshopped an RV into our driveway
Another family in town has a Provan Tiger parked nearby, and we were very interested in that model for awhile. I took photos of it from several angles and Photoshopped one of those images into a picture of our driveway. That was amazing! All of a sudden I could SEE it parked outside my house. Very effective! I plan to write a separate tutorial for you about that method.
3. Influenced the rest of the family
About year into the campaign and a couple of months after putting the Tiger ad in my slideshow, I realized that although my thinking had shifted a lot, my partners' position remained about where it had been: not completely opposed to the idea but thinking about it in a fuzzy and very far-off-in-the-future kind of way. That was a problem since this was ultimately going to be a joint purchase. So I printed out the Tiger-in-the-driveway picture and put it on the refrigerator. A week later I added a picture of our dog to invoke positive association. Soon after that it felt like we were both onboard. I learned from that to make sure to advertise for common goals in common space.
4. Frequently repeated many large detailed images
The last couple weeks of the campaign the intensity really picked up. I had found a rig we both really liked on a used RV website. I was able to download about a dozen pictures of both the interior and exterior. These pictures were both larger and more detailed than those I had been displaying in my Google Sidebar for the previous year and a half. I put those photos in my screensaver slideshow and set the frequency to change every 5 minutes. Each time I saw one of those pictures I felt really excited. From that point on it felt inevitable that we would own a rig very much like that one. Although the rig in those pictures ultimately did not work out, that stage of the ad campaign still pushed my thinking forward in a lasting way.
Use the Force, Luke
Each of the techniques above generated a paradigm shift in my relationship to the goal of owning an RV. They reached much deeper into my psyche than generic pictures of RVs had. After I saw those ads I felt different about the possibility of owning an RV. As I literally saw myself driving one or saw it parked in my driveway, it began to seem possible. Just a sliver at first, but possible. Finally the idea infiltrated the emotional life of myself and my family so thoroughly that we both believed it was something that would happen.
My message to you is that this advertising stuff is really effective! In fact it's almost scary how well it works. Seeing results like the ones above are why I decided to start writing about personal marketing. As I've said many times, other people are using techniques like these all the time to persuade us to do things, so we might as well use them to get our own goals into the game. Please use this power for good!
Related articles