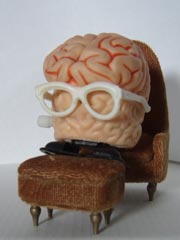 Dear Brain,
I think the self-advertising concept is GREAT! I need to exercise more – conveniently, that's what Lynn wrote about. But I have a question: would I be more effective to myself to have photos of me (noticeably overweight) doing things, having a good time, or photoshopped photos of my head on fit bodies having a great time?
Cate
Dear Cate
Great question! You've identified two of the the most important elements of a personal ad campaign in both versions you ask about:
Photos of me doing things
Having a great time
In addition, you mention a third very effective component:
Visualizing the outcome you want
In my experience, regularly exposing yourself to any photos of you doing something you want to participate in more often, such as exercising, with normalize that activity and make it more likely to happen. However anything you can do to engineer your photo so it looks like the outcome you want to achieve is already true will make it even more powerful.
Photos of me doing things
Putting yourself in the picture is critically important! A picture is worth 1000 words and all that. There is just no substitute for seeing ourselves doing the behavior we want to do. Even if you are noticeably overweight, seeing a picture of yourself exercising every day will to normalize your relationship to that behavior in a really important way. At various times I've successfully used pictures of myself swimming, rowing, biking, hiking, working out on the elliptical machine, and doing sit-ups. You can see some of those photos in our flickr set.
One caveat, though. It has to be a picture you have good feelings about or the ad can backfire. You'll know in a day or two if you have a positive gut response to the photo. If all you do is cringe about how fat you look, it's probably not going to work and you might want to try the Photoshop approach instead. Either place your head on a picture of a fit body, as you suggested, or perhaps crop the photo of yourself so it only includes the parts where you like what you see.
Having a great time
Ads like this are expecially effective if you can visually capture the feeling you want to get by doing the activity, so that seeing your ad reminds you of that feeling. For example I got myself to ride my bike to work for a while by figuring out I liked feeling awesome and powerful in my bike outfit. I amped up that attitude as much as I could in the photos for that ad campaign, and it was very effective.
So ham it up for the camera a bit. Figure out the real emotional pay-off for doing that activity and try to convey that feeling in your expression and body language when you take the picture.
Visualize the outcome you want
Most things that we accomplish happen first in our imagination, so I'm a big fan of engineering your photo to make it look like the outcome you want to achieve is already true.
Although I've not tried Photoshopping my head on another body, I have done a number of ad campaigns that visually stretched the current truth with great results. For example, this time last year I was not able to walk without crutches, so I had a friend take a picture of me pretending to walk on a trail near my home. I put copies on my refrigerator and bathroom mirror, where I would see them every day, and within a few weeks I was walking on that trail.
I think you have a fabulous idea. If you have the ability to Photoshop your head on a hot, fit body, go for it! Just remember to look like you're having a good time.
Now it's your turn
What advice do you have about making ads to motivate yourself to exercise? Have you ever used Photoshop to help yourself with something like this? How well did it work? Please share your ideas and results in the comments.
Ask Dear Brain
Would you like to receive advice about how to use personal marketing for a goal you have in mind? We'd love to hear from you! To have your question featured in a future edition of Dear Brain, please write to us in the comment form on the Dear Brain page.
Related articles