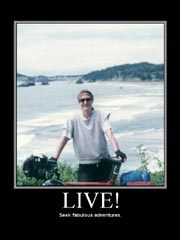 OK, gang. This hack is really cool. Motivator is a free online tool that lets you upload a photo, add some text, and choose a border. It then spits out a really professional-looking poster that you can either order as a large print or save to your computer to use in ad delivery systems you may already have in place. You do have to pay if you decide to order printed posters ($15-$40), but saving the finished image to your computer is completely free.
I made several posters a week ago for my Google Sidebar slideshow and just love them. Something about the slickness seems to be very effective. Let me stress how easy it was, too.
Keep in mind while you're working on the poster that you can always hit the Create button at the bottom of the page to see what you have so far, then use the Edit poster link at the bottom of the results page to go back to and make changes.
Make a poster
1. Go to the Big Huge Labs website
Go to the page for the Big Huge Labs Motivator tool at http://www.bighugelabs.com/flickr/motivator.php.
2. Choose a photo
Ignore the link to sign in. Instead, scroll down the page to the line that says Choose a file on your computer to upload. Click on the Browse button to select a photo from your computer's file system. (Check out the recent Put yourself in the picture series for ideas.)
3. Decide how to crop the photo
Motivator may need to cut off some of the edges of your photo if it's not a standard shape. You can control how it does that under Keep this part of my photo visible if it must be cropped to fit. The default is Center. You can also choose Top/Left or Bottom/Right. You can come back to this page after you've created the poster and experiment with different options if the way Motivator cropped your photo doesn't look quite right.
4. Choose an orientation
Choose Landscape (wide) or Portrait (tall) orientation for the poster. Normally you want to pick the one that is most like your photo.
5. Choose colors
All of the colors on the poster are configurable. I think the default white text on black background looks great – very motivational postery – but you can change them to any color you want. Click on the little square box to open a color selector or enter the hex RGB value if you know it.
6. Write a title
The title is a large short statement at the bottom of your poster. It could be a noun that embodies a quality you'd like to remember like STRENGTH, GRACE, FUN or a verb like DREAM, EXPLORE, RELAX. You can also use a very short phrase like KEEP IT SIMPLE. Motivator will automatically change the font size to make your title fit. Use the drop-down list control to change the style of the font.
7. Write the motivational text
This is the optional smaller text below the title, where you can put a more detailed statement of your message. This might be a good place to write an affirmation about your goal. Again, you can change the font style if you want.
8. Create poster
When you've finished filling in all of the fields click the Create button at the bottom of the page. It may take a minute or so for Motivator to process the image. Then it will display a page where you can view your finished poster.
9. Save the file or order a print
You have several options for what to do next with the poster you have just created. Here are the most useful for ads:
Edit poster – Use this link to go back to the previous page and change any of your selections. I frequently go back and forth several times until I get everything just right.
Save – This saves a copy of your finished poster to a file on your computer. This option is free, and is a fabulous way to generate very slick content for some of the delivery systems we've already discussed like your computer background, screensaver, or sidebar slideshow. You could also print a copy of the file you've saved for your refrigerator or Hipster PDA.
Buy a print – You can order a 20″x24″ print of your poster for $40, or smaller copies for as little as $15 for an 8″x10″. Payment options include both major credit cards and PayPal. According to their website:
Prints are made on high-quality professional archive photo paper with state-of-the-art photo-finishing equipment for absolutely stunning quality. Orders are processed and shipped to almost anywhere worldwide.
Upload to Flickr – Flickr is an online photo storage service. Its main advantage for personal advertising is that you can set up more than one computer to display the same set of pictures. We'll be talking more about Flickr in the future because I'm experimenting with a variety of ways to use its many capabilities for our ads.
(For example, if you tag any of your Flickr photos "tbyb" they will show up in the photo stream on our Examples page. If you come up with a great ad for yourself, please consider sharing your idea with the rest of the TBYB! community in this manner. Personal marketing is certainly a case where all of us together are smarter than any one of us alone.)
More tools at Big Huge Labs
There are a bunch of other free online tools at Big Huge Labs. Several of them look potentially useful for personal marketing, such as Magazine Cover, Movie Poster, Billboard, Trading Card and Cube.
Related articles